Elton John, who in 2008 publicly criticized marriage equality advocates in California for fighting for the word "marriage" and not settling for civil partnerships, has changed his tune, writing in The Independent: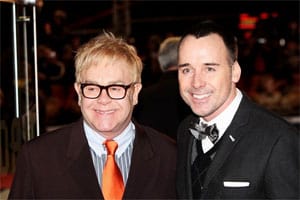 I know a lot of people, and perhaps especially religious people, will say that David and I should count ourselves lucky for living in a country that allows civil partnerships, and call it quits there. In most countries around the world, gay people aren't just disallowed from coming together in a legal sense; they are actually persecuted by governments because of their sexuality. Maybe we should just be happy that we at least have a civil partnership, and not push our luck.
Well, I don't accept this. I don't accept it because there is a world of difference between calling someone your "partner" and calling them your "husband". "Partner" is a word that should be preserved for people you play tennis with, or work alongside in business. It doesn't come close to describing the love that I have for David, and he for me. In contrast, "husband" does. A "husband" is somebody that you cherish forever, that you would give up everything for, that you love in sickness and in health. Until the law recognises David Furnish is my husband, and not merely my partner, the law won't describe the man I know and adore.