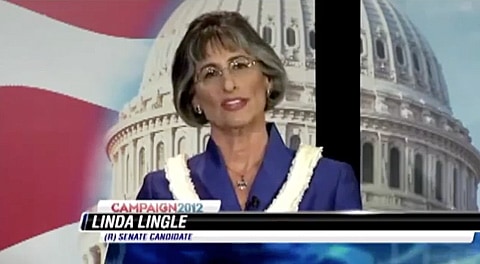 Former Hawaii Governor Linda Lingle, a longtime foe of equality and currently the GOP nominee in Hawaii's U.S. Senate reace, talked same-sex marriage with her Democratic opponent, Hawaii Congresswoman Mazie Keiko Hirono, in a debate last week On Top reports. Lingle says she thinks it's appropriate that the people vote on a constitutional amendment that would define marriage as between a man and a woman.
Said Lingle: "Well this is a question that I have spent an awful lot of time on as governor. And I know people have very strong feelings on both sides. It's something that I've wrestled with, President Obama has wrestled with it. I would certainly support putting this constitutional amendment on the ballot. Personally, I believe that marriage is between a man and a woman. But I also think the people of Hawaii should be able to make that decision."
Said Hirono: "We all remember when as governor she vetoed the civil unions bill and in doing so, before she vetoed it, she invited members of the LGBT leadership to join her. And they thought that she was going to sign that bill into law. And instead, right in front of them, the very group that had worked so hard to pass this legislation, she vetoed that bill. I thought that was extremely insensitive and disrespectful of their position."
Watch, AFTER THE JUMP…