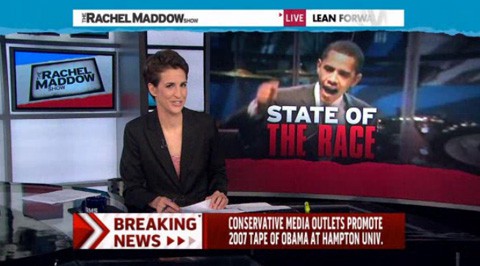 Rachel Maddow looks at the old Jeremiah Wright tape that was dragged out by Drudge and the right-wing last night in an attempt to spring somekind of  'October surprise' on Obama. Unfortunately, the tape had been well-covered before, back in 2007.
Maddow sees what they're trying to do, if it isn't obvious:
"See this is supposed to make you think that in this tape from before he was President Barack Obama he's revealing his secret plan to be way more Black than he seems to you now. This is how he snuck into the White House. People actually didn't know he was this Black and if they had known he was this Black they never would have elected him. That's the idea here, righ?. The efforts to make President Obama's race sound like new news and to make it seem shocking are now ramping up aggressively."
Later, Maddow was joined by Republican strategist Steve Schmidt to discuss this new strategy.
Watch, AFTER THE JUMP…
Visit NBCNews.com for breaking news, world news, and news about the economy
Here's Part 2, with MSNBC contributor and Republican strategist Steve Schmidt:
Visit NBCNews.com for breaking news, world news, and news about the economy