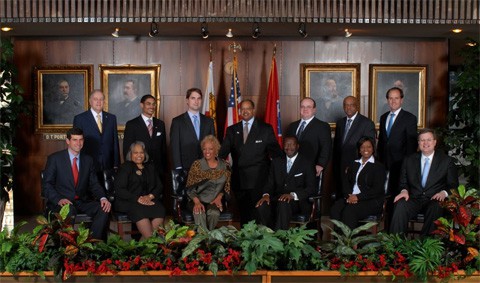 The Memphis City Council voted 9-4 to add sexual orientation and gender identity to a list of city workplace protections, the Memphis Flyer reports:
Councilman Reid Hedgepeth, a conservative who voted in favor of the ordinance last time, told the audience that harassment and robo-calls from the amendment's opposition had only strengthened his resolve to vote in favor of the amendment again.
"One e-mail said 'I hope you and your family burn in hell together.' How is that for Christianity?" Hedgepeth asked.
Additionally, councilwoman Janis Fullilove proposed an amendment to the ordinance that added protections on the basis of "gender identity." That amendment passed 9 to 4, as well. The only "no" votes on the "gender identity" amendment and the main motion to amend the city's nondiscrimination ordinance came from council people Wanda Halbert, Bill Boyd, Kemp Conrad, and Joe Brown.
The council chambers were lively before the vote. Speaking for the opposition, a representative from the Family Action Council said the amendment's passage would lead to protections for "grown men attracted to 12-year-old boys." That elicited boos and gasps from the audience. Pastor Larry Hunter, who wore a Taekwondo uniform, said he didn't "want to walk nowhere and see two mens [sic] kissing or two mens [sic] hugging."