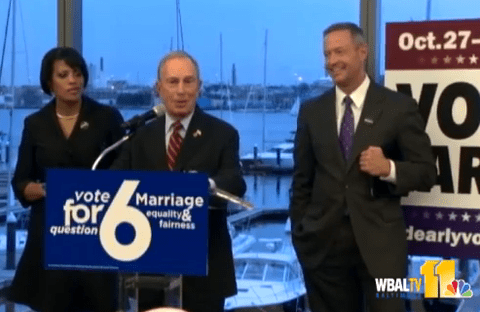 New York City mayor Michael Bloomberg jetted to Baltimore on Friday to help Gov. Martin O'Malley and Baltimore Mayor Stephanie Rawlings-Blake campaign for marriage equality there.
Bloomberg previously announced a $250,000 personal donation to the pro-equality movement and last Thursday co-wrote an op-ed with O'Malley addressing the issue.
"The way forward is always found through greater respect for the equal rights and dignity of all. And it is this belief in treating everyone equally under the law that has led to the surge in momentum in favor of Question 6," they wrote of the ballot measure that if approved would let same-sex couples tie the knot.
During his appearance in Baltimore on Friday, Bloomberg described marriage equality as both a civil rights issue and as an example of smart economics.
"Every wedding is a celebration that generates revenues for our restaurants and banquet halls, caterers and other small businesses," said the mayor. "In fact, we've calculated that same-sex marriage has generated more than $259 million in economic activity in our city in the last twelve months."
Meanwhile, polls once showed marriage equality winning by a wide margin in next month's vote, but the Baltimore Sun reports that right-wing efforts to target religious African-American voters are swinging votes toward "no": "A month ago, the same-sex marriage question was ahead by 10 percentage
points — 49 percent to 39 percent — in an earlier Sun poll. The contest
is now a dead heat in part because some African-Americans who supported
the measure or were undecided are now saying no."
From that paper's report, filed last night:
The numbers have moved amid television and radio commercials from the
Maryland Marriage Alliance, which opposes same-sex marriage, and
stepped-up efforts by pastors preaching against Question 6.

Much
of the advertising is focused on African-American voters, a bloc that
traditionally opposed same-sex marriage but had been warming to the
idea. In late September, the Sun poll showed a majority of blacks in
favor of Question 6 — evidently a high-water mark.

This time, the poll found 50 percent of black voters oppose the measure and 42 percent support it.

Yvonne Johnson, 65, of Prince George's County is among those who have decided to vote against legalization of same-sex marriage. "I'm not against gay people, she said. "I just don't think they should change what is in the Bible."
Perhaps it's time for some pro-equality preachers to stand up and be heard?
[Image via WBAL-TV.]