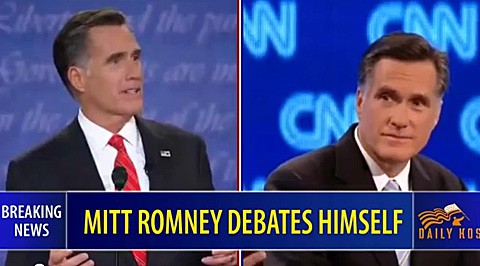 A liar who will oppose himself on every issue.
Watch, AFTER THE JUMP…
(via david mixner)
In related news, Aviva Shen at Think Progress has posted five examples of a new moderate Romney, noting:
During the first presidential debate, Romney started reversing positions he espoused all year while he was trying to placate the Republican base. Since the debate, he's continued to shed his hard-line stances that alienated moderates…Romney surrogates have admitted that Romney is changing his positions for political gain. Rep. Phil Gingrey (R-GA) explained that 'strong conservatives would understand' that Romney needs to lean center to cull moderate votes.