A new Maine poll shows that "the referendum proposal to legalize same-sex marriage in Maine leads 57 percent to 36 percent in the poll, with 7 percent saying they are undecided."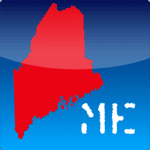 The Critical Insights poll was conducted Sept. 12 through Sept. 16 with live telephone interviews of 618 randomly selected likely voters statewide. Results were statistically adjusted to reflect the Maine population regarding age, gender, region of residence and political affiliation. The poll has a 4 percent margin of error.
Think Progress adds: "Support is particularly high among Democrats (81 percent), supporters of President Obama (86 percent), college graduates (69 percent), and 18-to-34-year-olds (77 percent). While hopes are high that Maine could be the first state to legalize the freedom to marry through a voter referendum, the fight will likely be close, as the 7 percent of undecided voters could easily sway the result."