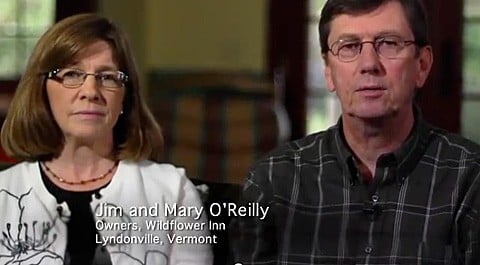 You may recall that back in August Jim and Mary O'Reilly of The Wildflower Inn in Vermont agreed to pay $10,000 to the ACLU and give $20,000 to a charitable cause after settling a discrimination suit filed by a lesbian couple whose wedding reception the inn refused to host.
Also:
As part of the settlement, the Wildflower Inn agreed to no longer host wedding receptions. The inn argued in court that the meetings and events manager misapplied the resort's policies in turning away Kate and Ming. The resort stated that instead of turning away same-sex couples who seek to hold a wedding reception, their actual policy was to not respond to phone calls or e-mails about wedding receptions for same-sex couples or to have a conversation in which the owners explained to the couple that hosting a wedding reception for a same-sex couple conflicted with their religious beliefs.
As part of the settlement agreement, however, the Wildflower Inn agreed that Vermont law prohibits unequal treatment of same-sex couples, including a failure to respond to inquiries from those couples or discouraging those couples from using the facilities.
Now, the O'Reillys are sticking their noses in Maine's marriage equality battle, starring in an ad for Protect Marriage Maine opposing Question 1 there.
Check it out, AFTER THE JUMP…