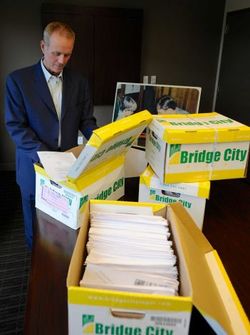 The Boy Scouts of America were forced to open up over 1,200 files revealing decades of alleged sexual abuse within the organization and how officials hid the truth from the public.
According to the LA Times, the files, dating from the 1960s to 1986, provide further evidence that the Boy Scouts hid hundreds of complaints and allegations from the public. The files, being described as the "perversion files," were opened as part of a 2010 Oregon Supreme Court ruling.
Kelly Clark, one of the lawyers in that case, a case in which the victim was awarded $18.5 million, said of the files: "The secrets are out… Child abuse thrives in secrecy and secret systems are where it breeds. And these secrets are out."
The lawyers are now asking Congress to investigate the Scouts' abuse policy to "see if they are doing what they say they are doing and if they are effective," CNN reports.
Scouts national president Wayne Perry downplayed the extent of the abuse and how it could spark more lawsuits, saying, "There have been instances where people misused their positions in Scouting to abuse children, and in certain cases, our response to these incidents and our efforts to protect youth were plainly insufficient, inappropriate, or wrong."
"Where those involved in Scouting failed to protect, or worse, inflicted harm on children, we extend our deepest and sincere apologies to victims and their families," he said.