Obama admitted he wasn't up to par at the debate on the trail this weekend, The Caucus reports:
Appearing at the Nokia Theater after a concert where Stevie Wonder, Earth Wind and Fire, Jennifer Hudson, Katy Perry and Jon Bon Jovi performed, Mr. Obama complimented the entertainers for their flawless presentations. Then, he added, "I can't always say the same."
The joke at his own expense comes as Mr. Obama and his campaign continue to try to recover from the debate. The president, seeking to add to his already strong fund-raising totals last month, exhorted wealthy and staunchly Democratic donors to continue their support, painting a picture of an economy in the United States that is making a comeback.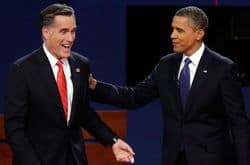 Gallup says Romney's debate bounce was huge.
Nate Silver looks at Romney's debate bounce (top chart):
On average, the four tracking polls showed Mr. Obama with a 3.7 percentage point lead between the convention and the debate. The numbers did seem to fluctuate slightly during this period — with Mr. Obama polling especially well just after the release of the "47 percent" tape, but then fading a bit early last week, even before the debate. But in general the polls were fairly stable and seemed to reflect a near-term equilibrium for the campaign.
Based on the numbers that the tracking polls published on Sunday, however, Mr. Obama's lead was down to just 1.7 percentage points on average — a net shift of 2 points toward Mr. Romney since the debate.
But that calculation potentially underestimates Mr. Romney's gains since only about two-thirds of the interviews in these polls were conducted after the debate. If Mr. Romney gained 2 points based on two-thirds of the interviews being conducted after the debate, that would imply a 3-point gain for him based on the post-debate interviews alone.
A 3-point gain for Mr. Romney would be consistent with what candidates received following some of the stronger debate performances in the past. It would also make the national race very close.