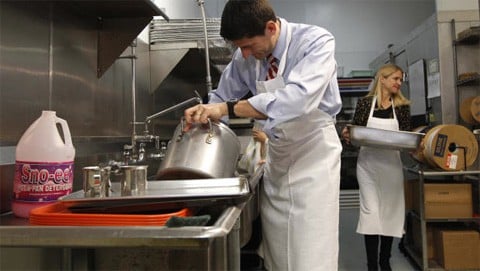 Brian J. Antal, president of the Mahoning County St. Vincent De Paul Society, blasted Paul Ryan for an unauthorized visit to a soup kitchen which he commandeered expressly for the purpose of a photo op, the Washington Post reports:
"We're a faith-based organization; we are apolitical because the majority of our funding is from private donations," Antal said in a phone interview Monday afternoon. "It's strictly in our bylaws not to do it. They showed up there, and they did not have permission. They got one of the volunteers to open up the doors."
He added: "The photo-op they did wasn't even accurate. He did nothing. He just came in here to get his picture taken at the dining hall."
Ryan had stopped by the soup kitchen for about 15 minutes on his way to the airport after his Saturday morning town hall in Youngstown. By the time he arrived, the food had already been served, the patrons had left, and the hall had been cleaned.
Watch the video of Ryan's visit, AFTER THE JUMP…