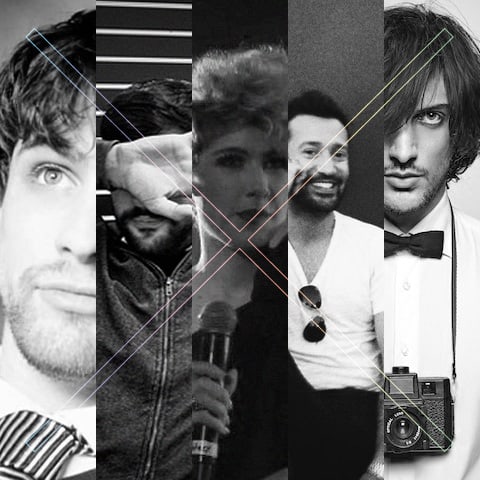 BY OCCUPY THE DISCO / JOSH APPELBAUM
The OXD Mirror is a weekly music column brought to you by the boys of OCCUPY THE DISCO (OXD), a New York City based movement created by three music lovers, Ru Bhatt, Josh Appelbaum, and Tadeu Magalhães, who want to share their love for disco, house and dance music with the world.
Emil & Friends: 'Internal Affairs'
Writer and Producer Emil & Friends a.k.a Emil Hewitt is a generally mysterious guy with a variety of talents.  Playing music from a young age onward, he toys around in an eclectic range from deep bass to fresh guitar riffs. This NYC artist has gotten some buzz from remixing the likes of The Knocks and Little Boots, but his new EP out on Kitsuné, Royal Oats, includes not only his own production but his own distinct vocals.  'Internal Affairs' features a space-funk backing along with Emil's smooth vocals, reminding me of some of the slower later releases from Daft Punk.
Hercules and Love Affair: 'Release Me (Andy Butler Remix)'
'
Hercules and Love Affair is like the All-Star Team of the modern dance music scene.  This collective's alumni includes Antony Hegarty (Antony and the Johnsons,) Kim Ann Foxman, and Nomi Ruiz (Jessica 6), and group leader Andy Butler continues to bring in and develop new talent with every release.  Their newest song 'Release Me' features vocals by DJ Whitney Fierce and is mixed by Butler himself.  The song, like many other of Hercules and Love Affair's other releases, harkens back to the legendary 90's club era.
Strange Talk: 'Castaway (Plastic Plates Remix)'
Plastic Plates is one producer whose work never fails to catch my attention.  Sometimes I feel a bit one note for posting his work all the time, but this Sydney-based producer (born Felix Bloxsom) has a sound that continues to evolve and grow with every studio session.  Fellow Australians Strange Talk are the lucky ones to have their great new single 'Castaway' get the Plastic Plates remix treatment.  These guys have made a splash since forming in 2010, with a sound reminiscent of modern greats Passion Pit and Cut Copy.  Vocalist Stephen Docker has the chops to lead this band to great success, and we're looking forward to their first album release sometime in the near future.  For those of you in New York, Plastic Plates will be at Tamanny Hall along with fellow Aussies, Van She. Details, and a chance to win free tickets, can be found on our site.
MORE NEW TRACKS, AFTER THE JUMP…
Killtronik: 'Paris La Nuit (Venice Beach Remix)'
22-year-old Kévin Blanc (Kiltronik) has been playing music since he was 8 years old, when he first learned to play piano, then guitar and ultimately writing his own music at 17.  The Cannes-based artist released his 5-track EP Paris La Nuit this year, which features an eclectic mix of pop songs that have a musical maturity far greater than Blanc's 22 years of existence.  His voice sounds a lot like Thomas Mars of Phoenix, particularly on the track 'You Me and It.'  Fellow Frenchmen Venice Beach give this title track their magic disco touch, adding a beat and some disco drama to this lush production.
Moullinex: 'Take My Pain Away (Gigamesh Remix)'
We are hotly anticipating the debut album release of Portugese act Moullinex this month.  In addition to various singles and EPs he has put out, Moullinex (a.k.a. Luis Clara Gomes) has remixed everyone from Cut Copy to Two Door Cinema Club.  Moullinex showed his versaility with last year's 'Sunflare', a lush and soulful track much different from his typical club-ready style.  Minnesotan remix genius Gigamesh lends his skills to this first single from Moullinex's upcoming Flora.  The new track has slick synths, a robust disco beat and all-around seamless production.
OCCUPY THE DISCO (OXD) curates and recommends music events to the gay community in NYC—in an effort to move the focus of the nightlife scene beyond the promoter and venue and to the music itself. OXD's goal is to educate, entertain, engage and empower the gay audience to reclaim their ability to question and experience the unknown. The OXD Mirror will serve to showcase tunes that are definitely off-the-beaten-path but rightfully deserve the attention of the gay ear. It's music that will make you dance, dream, and most importantly, love.
This week's post was written and curated by Josh Appelbaum.
For more information on OXD, check out our website and accompanying blog at www.occupythedisco.com, like us on Facebook, or follow us on Twitter: @OccupyTheDisco.