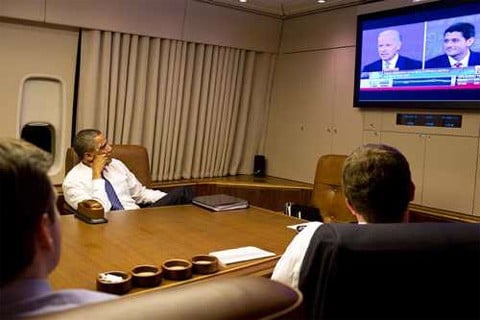 PHOTO OF THE DAY: Barack Obama watches proudly from Air Force One as Biden debates Ryan. 
BY SAM GREISMAN
A look back at today's big stories
ELECTION 2012
The Vice Presidential candidates held their first and only debate last night and Democrats have to be happy with the way Joe Biden was aggressive with Paul Ryan. Both sides found things to like and dislike about last night. Whatever the RNC says, I enjoyed Biden's wry smile.
No matter what Biden said last night (and Obama says in his next two debates) there are two people who the DNC may never get on their side. This insane woman who told Chris Matthews that Obama is a communist. And apparently Lindsay Lohan. LiLo is really worried about unemployment and rightfully so. 
**
BAD SEEDS

Horrifying news out of North Carolina where a gay couple was brutally attacked on the streets of Asheville. In case you were wondering North Carolina's hate crimes law does NOT cover sexual orientation. 
Ed Koch wants Larry Kramer to get the Presidential Medal of Freedom for his work against AIDS. Koch has also conveniently forgotten the role he played in allowing the AIDS crisis to grow. Speaking of people who are despicable, a group of Log Cabin Republicans is using images of the murdered Syrian Ambassador to attack Barack Obama.

The Chick-fil-A anti-gay story just wont die. The hate-filled, pro-chicken group is selling party trays that "only a fruitcake wouldn't love".
**
THE OUTS

Yesterday was National Coming Out Day and Aaron Rogers (a Wisconsin radio DJ – not the Packers Quarterback) took the opportunity to do just that. He came out to his audience. Someone who has been out for a while is singer Adam Lambert. Check out this promo for his appearance as a vampire on an upcoming episode of Pretty Little Liars. 
**
VIDEO OF THE DAY
Sean Penn and Kid Rock make for very strange bedfellows in their new PSA intended to encourage "political discourse".