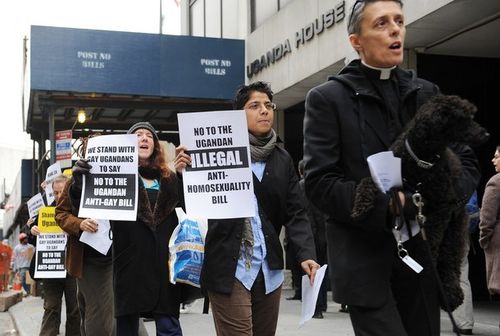 LGBT activists and allies who believes in basic human rights will gather at the Uganda House in New York City tomorrow to protest the ever-present "kill the gays" bill being pushed through by lawmakers in the African nation.
From the event's Facebook page:
At noon on Friday, November 30, 2012, human rights activists will hold a peaceful protest outside the Uganda Mission, at 336 East 45th Street, to help stop the "Kill-the-Gays" bill now topping the Uganda Parliament's agenda, due to human rights offender, Speaker Rebecca Kadaga.

The action titled: "Uganda: The World Is Watching" is being organized by The AEB Project, a U.S. LGBT civil rights network, in consultation with Sexual Minorities Uganda (SMUG) and others.

Protest signs will read: "Gays Like Christmas Too" and "Shame On Uganda" in response to Speaker Kadaga's promise that the genocidal law, which threatens death or life imprisonment to gay Ugandans, will come as a Christmas present to Uganda. Jesus Christ would no doubt be shocked.

"Human rights for LGBT people in Africa is now an international cause and the world is watching" said Todd Fernandez, who holds a Masters of Law from the Centre for Human Rights, Pretoria. "The Ugandan government is defying their own international treaty obligations and Constitution. It is obviously a subterfuge to divert attention from internal political mischief, and this scapegoating must be condemned and stopped."
The picture above is from a previous protest at Uganda House. Yeah, this thing has been dragging on for a while.