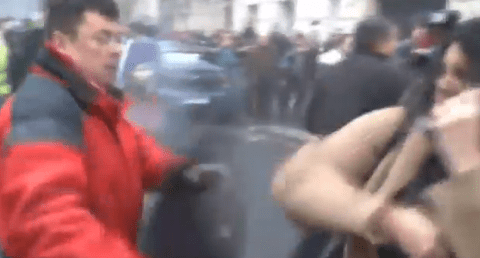 Anti-gay activists' marches in France took an appropriately French turn in Paris today when activists from the group Femen, topless and dressed as nuns, got into scuffles with the predominantly Catholic people protesting marriage equality there.
ABC News has the details:
The controversial Ukrainian group Femen, whose topless members stage pranks to support gay rights, have taunted a march in Paris by Catholics who oppose France's draft law to legalize gay marriage.

The Catholic group Civitas organized Sunday's march by several thousand people carrying pro-family banners.

Several Femen activists turned up topless, chanted "in gay we trust" and sprayed white powder from bottles.

That prompted several anti-gay marriage protesters to hit the Femen members and push them to the ground.
Some of the bottles containing the white power were labeled "sperm," as you'll see in not work friendly videos AFTER THE JUMP.
One witness, French feminist writer Caroline Fourest, said of the incident, "When they moved toward the demonstrators, some of (the protesters) ran after them, raging." Five people were arrested.