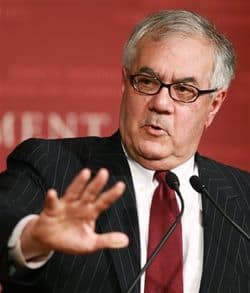 Rep. Barney Frank is still mulling his options as he looks toward retirement.
Though there's nothing set as of yet, Frank told WBUR reporter Bob Oakes that he hopes to write a book about the LGBT movement here in the States and perhaps another book advising liberals on growing their political base.
Basically, according to Frank, liberals need to "empower" themselves and be sure to stay out of the government-bashing fray.
I have a couple books in mind: one is what I think liberals should be doing. The fundamental point is going to be that we need to empower ourselves to do more with government than we've been doing, both as an end in itself and then there's a viscous cycle.

People don't like government, so they deny government the resources, we deny ourselves — which is what government is, ourselves acting collectively — we deny ourselves the resources to be effective and then because we don't do things right, people get angrier so they deny more resources. The way to break that cycle, in my judgement, is with substantial reduction in America's worldwide military commitments. I want us to do a better job of using our collective resources through government to improve the quality of life.
Frank later remarked, "I think the mistake many liberals make is in the current situation where government is unpopular, to join in the critique of government but then advocate specific expansions of government authority." And as for the gay rights movement, Frank would like a potential book to address the debate over which tactic is more effective: political activism or demonstrations. Frank prefers the former.
Listen to audio of Frank and Oakes' AFTER THE JUMP.