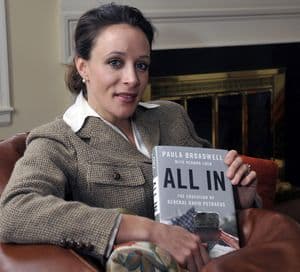 There was some Beltway gossip that the CIA may have played a role in unraveling former director David Petraeus' affair with Paula Broadwell, and the four-star general's entire career.
But the Washington Post reports today that Broadwell, being investigated for allegedly trying to access Petraeus' email, sparked the entire scandal by sending threatening emails to another woman in Petraeus' life.
[The story was] triggered when a woman with whom he was having an affair sent threatening e-mails to another woman close to him, according to three senior law enforcement officials with know­ledge of the episode.

The recipient of the e-mails was so frightened that she went to the FBI for protection and help tracking down the sender, according to the officials. The FBI investigation traced the threats to Paula Broadwell, a former military officer and a Petraeus biographer, and uncovered explicit e-mails between Broadwell and Petraeus, the officials said.
Both Petraeus and Broadwell were then interviewed by FBI officials and spilled the beans about their affair. The officials would not say who the woman Broadwell emailed was but did say she is not Petraeus' wife, nor is she a CIA employee and that Broadwell "perceived her as a threat," says the paper.
You can't make this stuff up.