Does Homeland dumb down the CIA?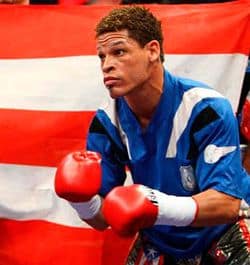 Orlando Cruz, the first openly gay professional boxer, spoke with Germany's Der Spiegel about coming to terms with his homosexuality: "For a long time I didn't want to accept that I was gay. Better said: I
couldn't accept it because I was too afraid. Homosexuals were
discriminated against in Puerto Rico back then, sometimes even killed. I
had a friend named José, but we called him Linoshka because he was a
transvestite. He was stabbed to death in the street at the age of 19 by a
homophobe because he had taken part in a gay-pride parade."

The website All Out is becoming an increasingly powerful voice in Africa's nascent gay rights movement: "The All Out website describes its objectives as 'building a truly global
community able to respond to moments of crisis and opportunity, to
advance the lives and freedoms of LGBT people everywhere' and credits 'the unprecedented possibilities for global people power that new social
media technologies allow'."

Justin Welby, the former oil executive Queen Elizabeth named to be the new Archbishop of Canterbury, is more open-minded on gay and lesbian inclusion
than his predecessor, the at-times obstructive Rowan Williams. Though
he doesn't support marriage equality, Welby said, "I am always averse to
the language of exclusion… Above all in the church we need to create
safe spaces for these issues to be
discussed honestly and in love."

Justin Timberlake and Jessica Biel lent a hand for the Hurricane Sandy relief efforts.

The royals came out for Britain's Remembrance Day.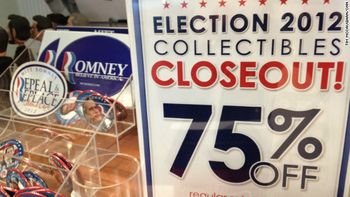 Forget that 60% off Romney merchandise sale, Dulles Airport is practically giving it away for 75%. It's only going to go up in terms of camp value.

Rent at the 1996 Democratic National Convention in Chicago.

Scenes from Hong Kong Pride 2012.

Counterfeits are so gauche: "A new type of thread woven into patterns invisible to the naked eye could put an end to fake designer clothes – and dull outfits… To extend the method to other valuables, Christian Müller at Chalmers University of Technology in Gothenburg, Sweden, made a semi-transparent thread from polyethylene and a polymer used in clothes dye. This thread has unique optical properties that allow only certain polarizations to pass through."

Ezra Klein reflects at The Washington Post: "Step back and take an accounting of these last few years: The United
States of America, a land where slaves were kept 150 years ago and
bathrooms were segregated as recently as 50 years ago, elected and
reelected our first black president. We passed and ratified a universal
health-care system. We saw the first female Speaker of the House, the
first Hispanic Supreme Court Justice, and the first openly gay member of
the Senate."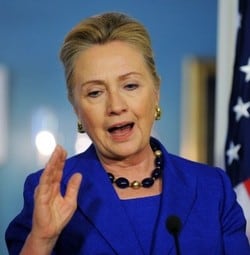 Secretary of State Hillary Clinton tells the New York Times' Gail Collins that she looks forward to some well-earned R&R once she leaves the State Department. "I just want to sleep and exercise and travel for fun. And relax. It
sounds so ordinary, but I haven't done it for 20 years. I would like to
see whether I can get untired. I work out and stuff, but I don't do it
enough and I don't do it hard enough because I can't expend that much
energy on it," said the Democrat.

50 Ways to celebrate timeless Demi Moore's 50th birthday. Idea 29: "Indulge in late night pottery sessions."

The Kardashians are terrifyingly popular in the UK.

Finally, here's video of Anne Hathaway reprising her Katie Holmes impression.