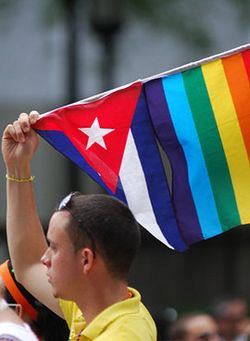 Adela Hernandez made history in Cuba this week after winning a municipal election and becoming the island's first transgendered elected official. And it's quite a turn around from her experience growing up on the communist island:
From ABC News:
Adela Hernandez, a biologically male Cuban who has lived as a female
since childhood, served two years in prison in the 1980s for
"dangerousness" after her own family denounced her sexuality.

This month she made history by becoming the first known transgender
person to hold public office in Cuba, winning election as a delegate to
the municipal government of Caibarien in the central province of Villa
Clara.

In a country where gays were persecuted for decades and sent to grueling
work camps in the countryside, Hernandez, 48, hailed her election as
yet another milestone in a gradual shift away from macho attitudes in
the years since Fidel Castro himself expressed regret over the treatment
of people perceived to be different.

"As time evolves, homophobic people — although they will always exist —
are the minority," Hernandez said by phone from her hometown.
Cuba has slowly but surely been making headway on LGBT rights: Activists there have held gay pride "strolls" and Mariela Castro, daughter of current president Raul, has been advocating for civil unions there. Hernandez's election is just another step in the right, rather than the "Right," direction.