Pre-trial hearings have begun in the case of Wikileaks soldier Bradley Manning, with the questioning of the former commander of Quantico marine base in Virginia, the Guardian reports: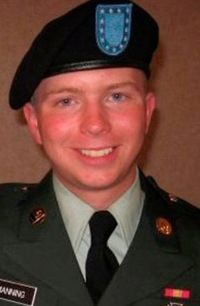 Daniel Choike told a pre-trial hearing in Fort Meade, Maryland, that when Manning arrived at the brig on 29 July 2010, having been arrested in Iraq on suspicion of being the source of the massive WikiLeaks dump of state secrets, he informed his superior officer in the Pentagon that in his opinion Quantico was not the right place for the soldier should his detention last long.
"I didn't feel that PFC Manning should be detained more than 90 days in the brig," he said.
In the end, Manning spent nine months at Quantico – three times the maximum Choike thought appropriate. The soldier's treatment there prompted international protests from the UN, Amnesty International and other organisations that likened it to torture.
Choike's admission that he had been aware of problems relating to Manning's incarceration at the Quantico brig came on Tuesday, at the end of an intense first day in the latest pre-trial hearing in the soldier's court martial…
…After about seven hours of questioning, Choike told the judge presiding over the court martial, Colonel Denise Lind, that he had been concerned from the beginning that the brig at Quantico was unprepared for the long-term detention of such a high-profile case as Manning. He said he was worried about dealing with the media, about co-ordination of command and about medical handling of the detainee.
He added that he "constantly" told his superior, Lieutenant General George Flynn, based in the Pentagon, that there were problems with the soldier's prolonged detention in Quantico.
Manning could possibly be questioned in the trial, and it would be the first time he has spoken publicly. He is trying to have the charges against him dropped on account of his pretrial treatment.
And New York mag adds this detail about the recent hearing:
At one point, the guards confiscated Manning's underwear after he allegedly said, "I have everything I need right here to be able to harm myself. The waistband of my underwear can do this," the Associated Press reports. That inspired one of the guards to pen a version of Dr. Seuss's Green Eggs and Ham that Manning's attorney David Coombs read aloud in court:
"I can wear them in a box,
I can wear them with a fox,
I can wear them in the day,
I can wear them so I say,
But I can't wear them at night,
My comments gave the staff a fright."