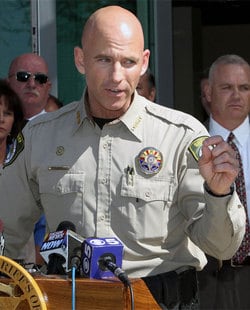 Arizona Sheriff Paul Babeu had originally hoped to win a seat in the U.S. Congress during this week's election, but pulled out after it the conservative Republican's ex-boyfriend outed him and accused Babeu of trying to get him deported.
So Babeu instead opted to run again for the Pinal County seat he's occupied since 2008.
The backtrack worked: Babeu won re-election on Tuesday and will join colleague and pal Joe Arpaio in maintaining Arizona's dubious law-enforcement tradition.
"A lot of you have been family to me and have stood by me through thick and through thin," Babeu said after clinching his win. "I can tell you there's been some dark days, but I knew you were there with me. I knew that you had my back and you wouldn't leave me."