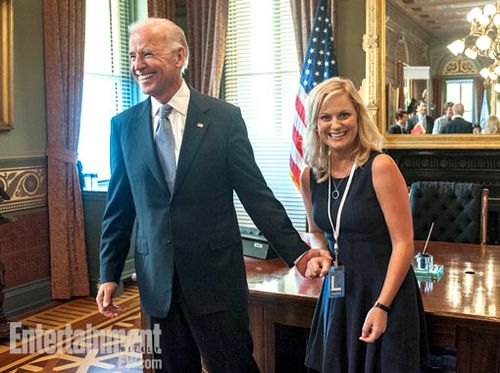 A few months ago, far before his job was secure, Vice President Joe Biden filmed a hush-hush cameo for NBC's politically-minded sitcom Parks and Recreation. That cameo will air next week, Entertainment Weekly reports.
Politicos like Sen. John McCain and retired Sen. Olympia Snowe have appeared on the show, but executive producer Michael Schur says Biden's the biggest get yet:
[Leslie Knope] has a lot
of social figures that she considers heroes, but the funniest hero is
Joe Biden. There's an episode last season where she says, 'Joe Biden is
on my celebrity sex list — well, he is my celebrity sex list'…
It was amazing to have her meet Olympia Snowe and Barbara Boxer because
that meant something to her politically. But this transcends that.

She's
meeting the man that she's in love with on some deep level. It was a
bigger deal to us in some ways that she meet Joe Biden than it was that
she meet Barack Obama.
The scene also apparently would have also worked had Biden and President Obama lost on Tuesday. "We treated it in the writing and the execution like our main character was meeting her hero," said Schur.
[Image via EW]