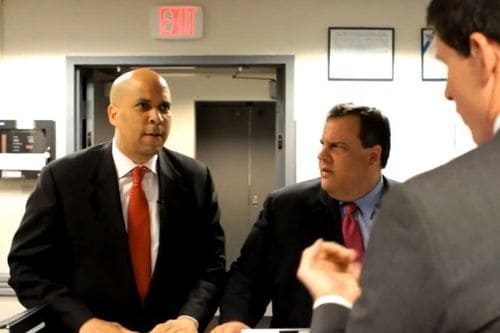 With the New Jersey gubernatorial race around the corner, the state's LGBT activists are both publicly and privately encouraging Democratic Newark mayor Cory Booker to run against GOP incumbent Chris Christie.
"Do I think Cory Booker is the only Democrat who can beat Gov. Christie? No," Garden State Equality executive director Steven Goldstein said of the popular, heroic and gay friendly mayor. "Do I believe that he has a much better shot than anyone else? Absolutely."
And Fred Sainz from Human Rights Campaign agrees that Booker is in a unique position, both for his national visibility and the LGBT community's devotion. "Like few others, Cory Booker manages to capture the imagination of the
LGBT community from all over the country, and from all walks of life," he said. "I would suspect a wide
diversity of Americans would support his campaign and help get him the
resources he needs to win." And then there's the obvious difference in LGBT politics: Booker endorses marriage equality, while Christie vetoed an equality law for political gain.
No official word on whether Booker will run, but two sources told the Star-Ledger that Booker will decide before Christmas. If he does, the NJ governor's race, with two such boisterous, charismatic figures, could easily become the main attraction in an otherwise sleepy off-year election season.