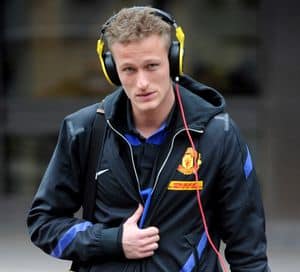 While professional sports here in the States are making some progress on gay inclusion, the soccer circuit remains a hotbed of homophobia. Welsh player Daniel Thomas was suspended earlier this year for tweeting hate at British diver Tom Daley and American player Colin Clark too had to sit out games for his own hateful remarks.
Manchester United goalie Anders Lindegaard hopes to see that change, and he thinks that will only happen if a gay player comes out.
"Gay people need a hero. They need someone who dares to step forward and stand for their sexuality," Lindegaard said in an open letter, according to The Sun.
More from the 28-year old:
Homosexuality in football is a taboo subject. The atmosphere on the pitch and in the stands is tough. The mechanisms are primitive, and it is often expressed through a classic stereotype notion that a real man should be brave, strong, aggressive and loyal.

And it is not the image that a football supporter associates with a gay person.

Of course it is a problem for young gay guys who love football, and feel they must stop their sport. Any discrimination is totally unacceptable, regardless of whether it is to do with coloor, religion or sexuality.

A gay player would fear the reception he gets from fans. My general impression is that other players would accept a gay player without any major problems.
Another football player from across the pond, Joey Barton, spoke out against homophobia on the pitch earlier this year.