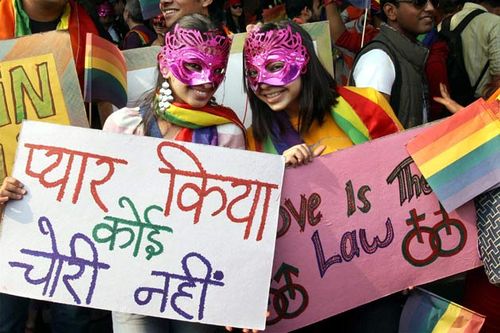 For the fifth year in a row, LGBT activists in New Delhi held a gay pride march to counter homophobia in a country where colonial-era homophobia runs deep.
Though the crowd of hundreds was relatively small when compared to other prides around the world, the song remained the same: any society that claims to be modern must embrace its LGBT citizens.
Dozens of demonstrators carried a
nearly 15-meter- (50-foot-) long, rainbow-colored banner and waved
placards demanding that the government extend the scope of
anti-discrimination laws to schools, workplaces and public and private
spaces.

…

"Queer and loving it" and "Give us your support" read some of the
placards carried by the activists as they marched to the rhythmic beat
of traditional drums and music. Other supporters distributed badges and
rainbow-colored flags and scarves.
The slow rate of acceptance of LGBT people among Indians could be seen in the masks worn by some participants, but one organizer told IBN that this year's event drew more people than previous events.