A somewhat belated congratulations to California lawmaker Cathleen Galgiani! The Democratic state senator who came out of the closet to fight anti-gay bullying eked out a reelection victory last week.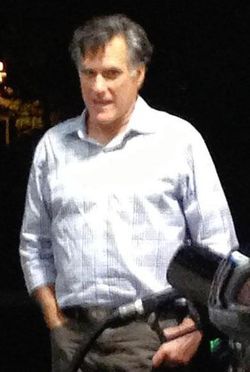 As Mitt Romney settles into post-campaign life at his mansion in La Jolla, California, one has to wonder how he's coping with the town's growing stench. From the NYT: "…The smell, a pungent stench that emanates from the accumulation of bird
feces on the rocks, has become a growing problem. And strict
environmental regulations in the cove have stymied the city's efforts to
address the problem before it drives tourists and businesses away,
effectively roping the rocks off with red tape."
There's definitely still plenty of red tape
to be put up before Washington and Colorado residents can buy legal
green: "Like Washington, Colorado still needs to set up a regulatory
framework to handle what is expected to be a big expansion of its
marijuana market, even though the state already has more medical
marijuana dispensaries than it has Starbucks."
A cost of mobile accessibility in India: "Millions once bought sex in the narrow alleys of Kamathipura, a vast red-light district here. But prostitutes with inexpensive mobile phones are luring customers elsewhere, and that is endangering the astonishing progress India has made against AIDS."
Now you too can be an action figure.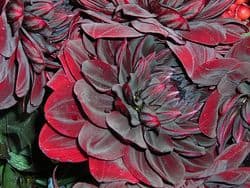 The mystery of the black dahlia has been solved. The actual flower, not the legendary murder mystery.
Twilight Breaking Dawn Part 2 topped the box office this weekend, as expected.
Derek Hough left his sleeves at home for Dancing with the Stars rehearsal.
PETA says happy birthday to Miley Cyrus by giving her a pig.
Feeling lucky enough to buy a ticket for the $425 million Powerball drawing?
And a very happy birthday to The Killing actor Joel Kinnaman.
A Catholic speaks out against Vatican-backed hate.
Faced with protests for his ouster, Egyptian President Morsi now claiming his dictatorial power grab is just temporary. "The presidency reiterates the temporary nature of those measures, which are not intended to concentrate power, but to avoid … attempts to undermine democratically elected bodies and preserve the impartiality of the judiciary," he office said in a statement that gave no end date for his sudden one-man rule.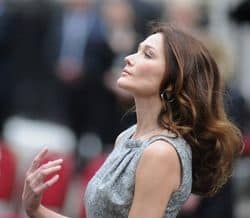 Former French first lady Carla Bruni
said that she, unlike husband Nicolas Sarkozy, supports same-sex
marriage and gay adoption. "I am rather in favor of gay marriage and
adoption, I have a lot of friends — women and men — who are in this
situation and I see nothing unstable or perverse in families with
homosexual parent," the former model and musician told Vogue.
It will be a big, gay week for the Supreme Court.
A Kentucky teacher has been reprimanded after writing "You can't be a Democrat & go to Heaven" on her classroom's chalk board.