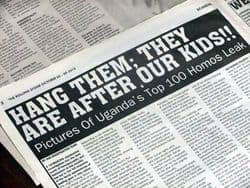 The Ugandan situation is changing by the hour. Yesterday Andy reported that lawmakers there are looking to vote on a bill that would impose even harsher penalties on gay people and their allies. That vote could come as early as today but almost definitely before Christmas.
Well, the BBC now reports that the law's call for execution of gays and lesbians has been removed, but that anti-gay leaders are still pushing for extraordinarily harsh and brutal punishments:
The bill, tabled by MP David Bahati, proposes longer jail terms for
homosexual acts, including a life sentence in certain circumstances.

In its original form, those convicted of "aggravated
homosexuality" – defined as when one of the participants is a minor,
HIV-positive, disabled or a "serial offender" – faced the death penalty.

Such offenses would now be punished with life imprisonment, it is understood.

The original bill also prohibited the "promotion" of gay
rights and called for the punishment of anyone who "funds or sponsors
homosexuality" or "abets homosexuality".

Mr Bahati has previously said that the death penalty provision would be dropped but this has not been confirmed until now.
Some are suggesting that this "removal" of the death penalty may just be a PR cover and that the actual bill's language may obscure the truth. Time will tell what happens there.
Here in the United States, HRC is asking religious organizations and leaders, particularly Evangelical conservatives who have encouraged homophobia in Uganda, to reach across the pond and ask their Ugandan peers to fight for what's decent and right, like not jailing people for being born gay.
"American faith leaders know that calling for the death penalty – or even
calling for imprisonment of – an entire community is not in line with
Christian values," HRC President Chad Griffin said in a press release today. "American Christian faith leaders with ties to Uganda, like Rick Warren
and T.D. Jakes, must reach out to their influential Ugandan friends to
ensure that the human rights of Ugandans are not put up to a vote."