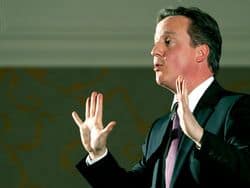 British Prime Minister David Cameron is increasingly enthusiastic about making marriage equality a reality in England in the very near future.
The Telegraph reports that Conservative Party member Cameron and Liberal Deputy Prime Minister Nick Clegg reassured religious groups last night that there would be a "double-lock" exempting them from having to recognize same-sex marriages, which the men say they will introduce next year, earlier than expected:
Downing Street said originally that same sex civil marriage would be introduced at some stage before the next General Election and there was no mention of the proposed legislation in the last Queen's Speech.

Mr Cameron has promised to legislate to allow gay couples to marry in civil ceremonies, while not forcing the changes on the Church.

George Osborne, the Chancellor, this month said allowing marriage for homosexual couples is crucial to help the Conservatives stay in "in step with people and how they want to live their lives".

His call came in an analysis of why Barack Obama defeated Mitt Romney in the US presidential election, despite polls showing the Republican candidate was trusted more to turn the economy around.

Mr Osborne said that the Republicans had lost "swathes of voters" because of their traditionalist positions on social issues.
But not all Brits are on board: a ComRes poll showed that two-thirds of all voters believe Cameron and his Conservative Party allies' shift on marriage equality is just them trying to be "trendy and modern."
Meanwhile, via Joe.My.God, Taiwanese animators have already offered their always unique take on Cameron's marriage equality efforts.
Watch it AFTER THE JUMP.