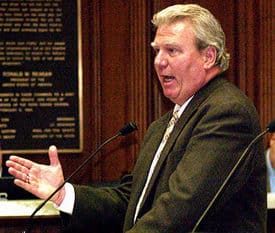 Marriage equality's electoral wins in this month's election haven't deterred Indiana State Rep. Eric Turner and his GOP allies from their anti-gay marriage mission.
1010 WCSI reports that Turner plans on moving forward with a proposed amendment that would amend the state's constitution to define marriage as being between one man and one woman, even though same-sex marriage is already illegal in Indiana and that state's GOP made a show of moving away from homophobic politicking. 
Same-sex marriage is already illegal in Indiana, but legislators overwhelmingly voted last year to put that ban in the constitution. It has to pass the House and Senate again in 2013 or 2014 — but this month's election brought the first suggestion public opinion on the issue could be shifting.

Minnesota voted this month to reject a constitutional ban, while Maine and Maryland became the first states to legalize same-sex marriage by referendum. Representative Eric Turner (R-Marion), who authored the amendment, says Hoosiers have more in common with the 30 states which have approved constitutional bans. But Turner says a House leadership meeting next month will discuss when and whether to resubmit the amendment.
Rick Sutton, executive director of Indiana Equality Action told WCSI they're going to let the vote go through as is expected and instead concentrate efforts on fighting conservative forces during the proposed amendment's final test: a public vote in 2014.