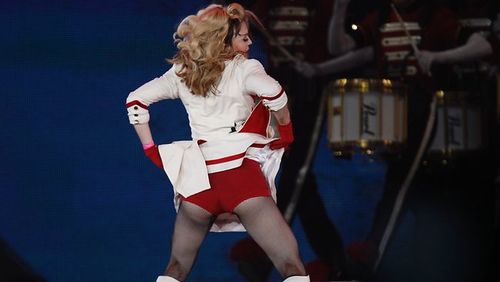 Here's an extra thing to be thankful for this year, Madonna fans: a Russian court threw out an anti-gay group's $10 million lawsuit against the singer, whom they accused of "corrupting" Russian youth and threatening the nation's birthrate by celebrating LGBT equality at a St. Petersburg concert in August.
And the AP reports that the one-day hearing "bordered on the farcical:"
The ruling came after a one-day hearing that bordered on the farcical.
During it, plaintiffs claimed that Madonna's so-called "propaganda of
perversion" would negatively affect Russia's birthrate and erode the
nation's defense capability by depriving the country of future soldiers.
At one point, the judge threatened to expel journalists from the
courtroom if they laughed too much.
Despite the ruling, the anti-gay activists who brought the suit still think Madonna deserves to be punished. "We believe there was a case of the breach of law, namely gay propaganda among minors," said Darya Dedova.
Madonna, one has to guess, couldn't care less.