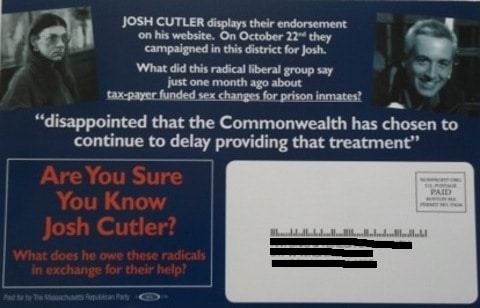 Josh Cutler, a Democratic candidate for the Massachusetts state house, has responded to the Republican Party's mailer trying to smear him for the fact that MassEquality endorsed his campaign.
That mailer implied Cutler supported tax-funded transitions for transgender inmates, as MassEquality has; it was to that detail that Cutler, obviously feeling threatened by being associated with transgender inmates, responded in an email to supporters.
From that email:
Yesterday, my young son came home to find this mailing from my opponent falsely claiming that I am supporting taxpayer funded sex-change operations for prisoners!
 
I want to tell you unequivocally — that's false. In fact, it is a blatant lie.
 
The truth is, I am already working with folks in the legislature to fight this outrageous ruling and make sure that taxpayers never pay one cent.
 
What's just as outrageous is that my Tea Party Republican opponents would go to this extreme spreading lies about me just days before the election, expecting that I'd have no time to set the record straight.