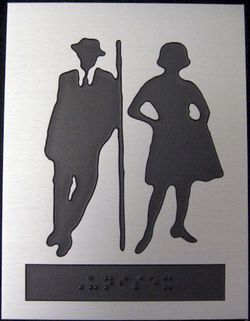 Saying he's "not unsympathetic" to the discrimination transgender people face in today's society, Maine Justice William Anderson this week threw out a transgender student's lawsuit claiming Maine's Orono School District broke the law by forbidding the unnamed student from using the girl's bathroom.
"The court is not unsympathetic to [the girl's] plight, or that of her parents," said Justice Anderson, according to the Bangor Daily News. "It is no doubt a difficult thing to grow up transgender in today's society. This is a sad truth, which cannot be completely prevented by the law alone."
More from his remarks:
The law casts a broad stroke where one more delicate and refined is needed. Although others mistreated [the girl] because she is transgender, our Maine Human Rights Act only holds a school accountable for deliberate indifference to known, severe and pervasive student-on-student harassment. It does no more.

In this case, the school acted within the bounds of its authority in prohibiting [the girl] from using the girls' restroom; it did not itself harass [the girl] by its actions, and it was not deliberately indifferent to the harassment that [she] experienced from others.

The court finds that there is no evidence of deliberate indifference with respect to plaintiff's claims of education discrimination, and it finds that defendants acted within the law under the public accommodation discrimination claim. Therefore, the court grants summary judgment to [the school district].
The lawsuit, stemming from a 2007 incident, was first filed in 2009.