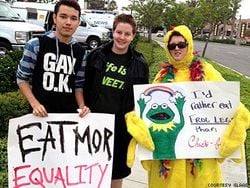 Fast food franchise Chick-fil-A continues to feel ramifications from CEO president Dan Cathy's comments about gay people and the company's support for anti-gay groups like Family Research Council.
Shore News Today reports that Herman J. Saatkamp, president of Richard Stockton College in Galloway, New Jersey, will soon decide whether or not to evict Chick-fil-A's campus outpost after the student senate approved the measure.
The Student Senate wants Saatkamp to ask Chick-fil-A to leave campus.

The Senate voted 14-10, with two abstentions, to send a letter of resolution Monday, Nov. 26.

Saatkamp will have to decide if he wants to consider trying to break a 10-year contract with the chicken franchise that has been dealing with controversy since comments were made by its Chief Operating Officer Dan Cathy last summer opposing same-sex marriage.

…

Members of the Stockton Pride Alliance, which represents the lesbian,
gay, bisexual and transgender community, have attended the Senate's last
two meetings to express concerns about being discriminated against and
saying the perceived discrimination was encouraged by Chick-fil-A's
presence.
A campus survey, meanwhile, found that 66% of Stockton students want the restaurant to stick around.