A couple choice answers from a GQ profile of Senator Marco Rubio (R-FL), seen as one of the leading contenders for the GOP in 2016.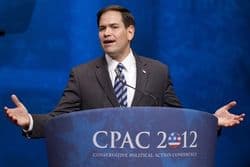 GQ: How old do you think the Earth is?
Marco Rubio: I'm not a scientist, man. I can tell you what recorded history says, I can tell you what the Bible says, but I think that's a dispute amongst theologians and I think it has nothing to do with the gross domestic product or economic growth of the United States. I think the age of the universe has zero to do with how our economy is going to grow. I'm not a scientist. I don't think I'm qualified to answer a question like that. At the end of the day, I think there are multiple theories out there on how the universe was created and I think this is a country where people should have the opportunity to teach them all. I think parents should be able to teach their kids what their faith says, what science says. Whether the Earth was created in 7 days, or 7 actual eras, I'm not sure we'll ever be able to answer that. It's one of the great mysteries.
Slate notes, of the answer: "So this answer, as confounding as it is, turns out to be pretty clever. Rubio is mushy on the "age of the earth" itself, which would cast him forever as a scientific know-nothing. But he posits that the Earth was created in "seven days or seven actual eras" — and that these are the only possible options. That's a popular position!"
Here's another question:
GQ: You talk a lot to young Republicans. Recently I met a Republican who said, my kids are in high school and there's a prom. There's straight kids, gay kids. It's no big deal to them. And he says, my party, the Republican party, has to stop putting these social issues out there and talking more about stuff that effects people.
Marco Rubio: I think that's unfair. A significant percentage of Americans feel very strongly about this issue. What I'm hearing is that it's ok for one side to express their view and the other side needs to be quiet. There are a very significant number of Americans that feel very strongly about the issue of life, about the issue of marriage and are we saying that they should be silenced or not allowed to speak or voice their opinion? There's a way to do that that is respectful and productive. There are things we'll always disagree on, but it doesn't mean we go to war over them or divide our country over them. We agree to disagree, but we continue to work together on the things we all know that we have to do.
In related news, David Mixner posts a video from an appearance Rubio made in Iowa over the weekend at a Republican fundraising dinner as evidence the Tea Party favorite is already getting his feet wet.