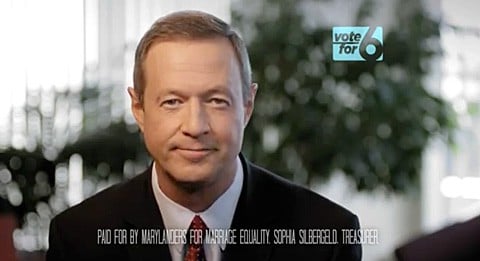 Maryland Governor Martin O'Malley appears in a new ad for Question 6 in Maryland.
Watch, AFTER THE JUMP…
And David Mixner reports on some ugly campaigning from the GOP there:
In Maryland millions of voters will go to the polls tomorrow to vote marriage equality up and down. It is very close.
On the same ballot is a statewide version of the "Dream Act" and a measure to build another casino in Maryland. Besides marriage, I am huge supporter of the Dream Act and until yesterday couldn't have cared less about the casinos.
That is not the case any more.
This weekend former GOP National Chair Michael Steele sent out a slate to all Republicans (it was NOT the official Republican slate) and asked them to vote yes for the casino and AGAINST marriage equality and the Dream Act. This slate was financed by interests from the casinos.
The love you and then hurt you approach simply won't work for us anymore.
Every LGBT voter in Maryland, every supporter who cares about our rights, and every person who believes in honesty and decency should – when they go to the polls in Maryland tomorrow -  vote NO on the casinos and YES for marriage equality and the Dream Act.
The LGBT community must not be jerked around anymore and I urge you to send a powerful message. If you live outside the state but know Maryland voters call them and pass on the message.