A SignOn.org petition urging Macy's to dump Donald Trump has gathered nearly a half million signatures.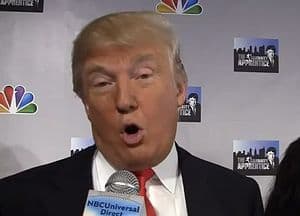 Macy's: Donald Trump does not reflect the "magic of Macy's." We urge you to sever ties with him. Macy's says it has a strong obligation to be "socially responsible" and that "actions speak louder than words." Indeed. It's time to act.
Write the petition's creators:
Macy's has a special deal with Donald Trump. They invest in developing Trump's brand and sell his clothing line and fragrance at their locations. To this end, they have had major events at Macy's Herald Square location and they often feature and promote Trump in advertisements designed to celebrate the magic of Macy's. Recently, Macy's CEO Terry Lundgren sent Donald Trump a letter touting how excited Macy's was to be working with Trump and promising to expand Trump's brand even further than it already is. But, why is Macy's celebrating Trump?
The creators cite Trump's sexist behavior, his hypocrisy about overseas jobs, his denial of climate change, and his birther conspiracy obsession as examples of his socially irresponsible behavior.
Sign the petition here.