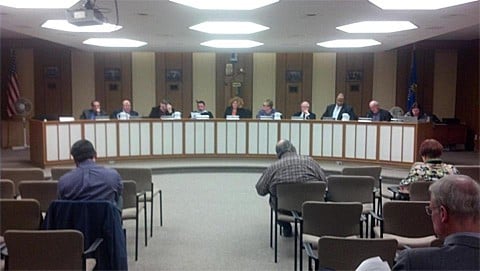 (image fair wisconsin)
The Janesville, Wisconsin City Council last night voted 6-1 to approve a measure extending domestic partnership benefits to city and library employees and their partners, the Wisconsin Gazette reports:
Katie Belanger of Fair Wisconsin issued a statement shortly after the vote. She said, "This decision marks an important victory for fairness. Janesville's vision for creating an inclusive and welcoming workplace makes them a leader in our efforts to build a more fair and just state for all Wisconsinites."
Belanger thanked the city council, specifically Councilmembers Sam Liebert and Russ Steeber, who co-sponsored the measure.
"We are very proud to have worked with the Janesville City Councilmembers over the last year to support their efforts to make Janesville a fairer place to live and work," she said.
"Providing domestic partner benefits and creating a more inclusive workplace is a critical step toward building a stronger, more diverse workforce that will lead Janesville and Wisconsin in the years ahead."
Janesville is the hometown of U.S. Rep. Paul Ryan.