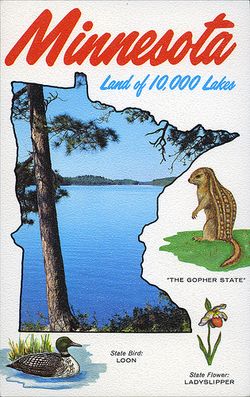 Minnesota voters may have voted "no" on amending the constitution to define marriage as being between one man and one woman, but Star Tribune journalst Lori Sturdevant crunched the numbers and finds that the state's ruling Democratic Farmer-Labor Party probably won't be inclined to push for legislative action repealing the 15-year old law that still bans same-sex nuptials in Minnesota.
Truth be told, despite a 38-29 majority in the Senate and 73-61 edge
in the House, DFLers may not have the votes to pull off a prompt DOMA
repeal. It isn't lost on legislators that "yes" carried 75 of the
state's 87 counties — the rural share — many with more than 60 percent
of the vote. Some of those counties are now represented by DFLers —
and DFL leaders want to keep it that way.

They just won an election by accusing Republicans of social-issue
overreach. They know that in the eyes of the 47.43 percent of
Minnesotans who voted "yes" on the marriage ban, repealing DOMA would
make them guilty of the same crime.
Minnesota lawmaker Rep. Patti Fritz is well aware of this political reality, and seems unwilling to take up the issue at all.
"When you bring up an emotional issue like that, it takes center stage
and steals everyone else's air, and everything else has to take a back
seat," Fritz told the AP after the election.