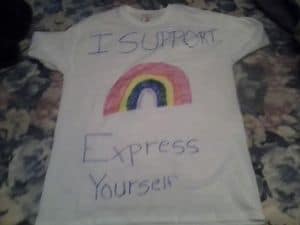 Officials at Celina High School in Ohio last week ordered 20 students to remove t-shirts reading "Straight but Supportive" and "I Support [rainbow illustration] Express Yourself" because they claim the shirts were "political" and therefore disruptive.
"The only reason they would be told that they couldn't wear something is if it is a disruption of the educational process, or if it's not allowed in the handbook," said school Superintendent Jesse Steiner. "And there's a line in our handbook about drawing undue attention to yourself."
ThinkProgress' Zack Ford, who calls Steiner's reading of that policy as "grossly unconstitutional," provides background:
Last week, two students at Celina High School celebrated "Twin Day" with T-shirts that read "Lesbian 1″ and "Lesbian 2," but they were forced to remove them. In response, some 20 students went to school Tuesday wearing home-made T-shirts that read "I Support… [Rainbow] Express Yourself" and "Straight but Supportive," a show of support organized by sophomore Jimmy Walter.

Assistant Principal Phil Metz forced all the students to remove the shirts because they were "political," and those who did not were given detention with the threat of suspension.
But one of the students involved pointed out that her peers often where wear pro-life shirts, pro-Romney shirts or apparel that claims President Obama is a socialist. Celina High School also just hosted GOP vice presidential candidate Paul Ryan. The claims of "political disruption" therefore are entirely partisan. Both Celina High School and the students are calling in their respective lawyers.
But Ford notes, this debate has basically been settled since 1969: "In the 1969 case of Tinker v. Des Moines, the Supreme Court ruled that "state-operated schools may not be enclaves of totalitarianism" and students are entitled to free speech so long as it does not 'interfere with the requirements of appropriate discipline in the operation of the school.'" Celina High School will no doubt go down in court.
A similar case arose from the Buckeye State earlier this year when student Maverick Couch won a lawsuit against school officials who tried to ban his "Jesus is not a homophobe" shirt.