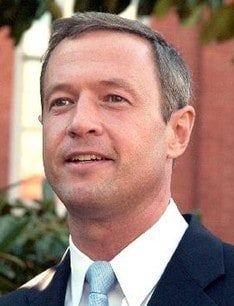 Saying that the campaign to approve existing marriage equality in Maryland is "in good shape," Democratic Gov. Martin O'Malley urged supporters of Question 6 to keep giving dough straight through to election day.
"We're now about $400,000 away from having on hand what we need to have, so this last push is critically important," he said at a press conference last night. "We continue to raise dollars, and the interest in this question continues — more and more people are becoming interested in this, so I appreciate your coverage on it. And hopefully with your coverage of what you're doing and what the campaign we'll be able to get the word out and rally people to this cause."
"We have one week to go. The campaign is in good shape," he added.
The Washington Blade reports that Marylanders for Marriage Equality has raised a total of almost $5 million. Opponents of equality scraped together about $846,865, but O'Malley predicts a final surge of anti-gay ads ahead of the election. "They're the same ads you've seen in other states [with same-sex marriage campaigns;] ads even some of those that ran the ads admitted were false," he said.
As for Robert Anderson, the Maryland reverend who says those who support gay rights are "worthy of death", and other religious leaders who warn of same-sex marriage's fire and brimstone consequences, O'Malley remarked, "That sort of rhetoric is going to be rejected by the people of our state… We are a very diverse state, ethnically and also religiously… And that sort of rhetoric of fear and division and vilifying people that are not like us for whatever reason is not the sort of thing that builds consensus in Maryland."
O'Malley last night also touted the pro-Question 6 endorsement from The Baltimore Sun, which reads in part:
The case for Question 6, which would affirm Maryland's law authorizing same-sex marriage, is simple. It upholds the principle that the law should treat everyone the same. Marriage is both a religious and a civil institution. Churches, synagogues and mosques have always set their own rules about which marriages they recognize, and this law does not change that fact. What it does is to ensure that no Marylander faces discrimination under the law when it comes to one of the state's fundamental institutions.

Opponents of the measure have sought to confuse the issue by warning of unintended consequences of marriage equality. They claim that those who, for religious reasons, oppose same-sex unions will be persecuted. That children will be taught about same-sex marriage in school against their parents' will. That it will somehow rob children of the best possible upbringing.

Those are no more than scare tactics.
Finally, O'Malley over the weekend attended the group Art Allies' pro-equality event in Baltimore. Watch video from the party AFTER THE JUMP. O'Malley shows up around the 2:25 mark.