Mark Takano, an openly gay candidate for Congress in Riverside County, California, is likely to win a seat in the U.S. House, the Washington Blade reports: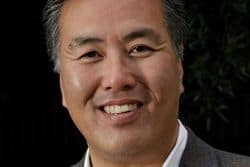 Takano, a Democrat, leads in the race to represent California's newly created 41st congressional district in the U.S. House against Republican candidate, Riverside County Supervisor John Tavaglione.
With 54 percent of precincts reporting as of early Wednesday, Takano leads 57-43 percent; several media outlets have projected him the winner.
Chuck Wolfe, CEO of the Gay & Lesbian Victory Fund, said a Takano victory would be significant because in addition to becoming the first openly gay person of color to be elected to Congress as a Japanese-American, Takano would also be the first out person to represent California as a federal lawmaker.
"We're excited that Mark Takano is heading to Capitol Hill, where he will be the first openly LGBT person of color to serve in Congress, and the first out Californian," Wolfe said. "Mark joins a small but growing caucus of openly LGBT lawmakers in Washington who are challenging their colleagues to stand on the right side of history."