Sean Patrick Maloney won his race for Congress from new York.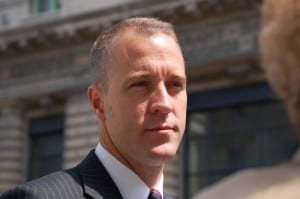 The Poughkeepsie Journal reports:
According to unofficial results, Maloney was leading Rep. Nan Hayworth, 127,547 to 119,709. In Dutchess County, 154 of 154 election districts were reporting results, with 299 of 322 election districts reporting in Orange County, 59 districts of 68 reporting in Westchester County and 86 of 86 districts reporting in Putnam County.
The redrawn 18th Congressional District includes Putnam and Orange counties, as well as parts of northern Westchester and the southwest corner of Dutchess.
Maloney ousted freshman Republican Hayworth, who he said was too conservative for the Hudson Valley district. He had cited her tea party support and her embrace of vice presidential candidate Paul Ryan's Medicare plan.
The Victory Fund reports:
Maloney, a former staffer in Bill Clinton's White House, has a partner of 20 years and three children.
"We can't wait for Sean to show his colleagues in the House his pride in his family, and his commitment to the people of New York's 18th Congressional District," said Chuck Wolfe, president and CEO of the Victory Fund.  Maloney joins Wis. State Rep Mark Pocan, who won his race tonight to replace Rep. Tammy Baldwin in the House.  "Sean has been a leader in New York, serving two governors and working hard to secure a more promising future for his children.  He will also be a strong voice in Congress for fairness and equality."
He is the first openly LGBT member of Congress from New York.