Striking employees have forced Hostess Brands, maker of Twinkies and other delicious lard-filled goodies, to shut down and liquidate, ABC News reports: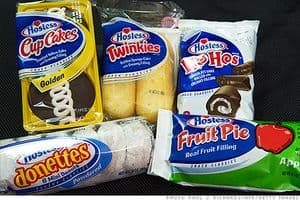 "We deeply regret the necessity of today's decision, but we do not have the financial resources to weather an extended nationwide strike," said Gregory F. Rayburn, chief executive officer. "Hostess Brands will move promptly to lay off most of its 18,500-member workforce and focus on selling its assets to the highest bidders."
Hostess said it will seek bankruptcy court permission to close its business and sell its assets, "including its iconic brands and facilities. Bakery operations have been suspended at all plants."
Is it the end of the Twinkie, the Ding Dong, and the Ho-Ho?
Hostess will move to sell its assets to the highest bidder. That could mean new life for some of its most popular products, which could be scooped up at auction and attached to products from other companies.
A letter that Hostess sent to its network of stores that carry its product said it expects "there will be great interest in our brands." But it said it could not give a time frame for when the sales would take place and its products would be available again.
But even if those brands are bought and restarted, the Hostess workers will not get their jobs back.
Get your last Twinkies now!