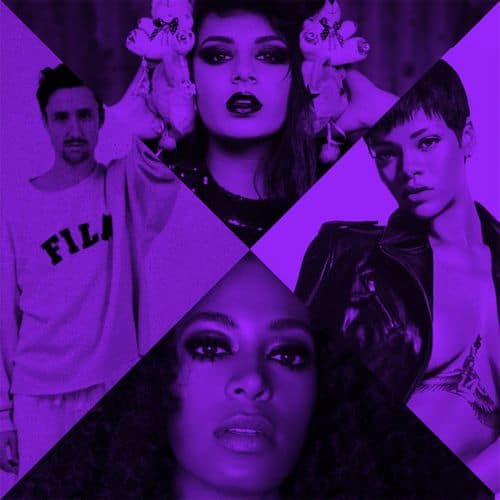 BY OCCUPY THE DISCO / RU BHATT
The OXD Mirror is a weekly music column brought to you by the boys of OCCUPY THE DISCO (OXD), a New York City based collective created by three music lovers, Ru Bhatt, Josh Appelbaum, and Tadeu Magalhães, who want to share their love for disco, house and dance music with the world. 
Charli XCX – 'Spoons (Extended Edit ft. Rudimental & MNEK)'
Charlotte Aitichison, better known by her stage name: Charli XCX, is a London-based songstress that has been making waves on the pop music scene since the release of her debut You're the One earlier this summer. In addition to her EP, she's released a few mixtapes via Soundcloud such as Heartbreaks and Earthquakes, which includes Charli's covers of some of her favorite artists such as Blood Orange, Blood Diamonds and Drake. With 'Spoons,' Charli gives us her version of the Rudimental track of the same name creating a deep house mix that maintains Rudimental and MNEK's verses and adds Charli's effusive vocals on top.
How To Dress Well – '& It Was U (Pional Re-work)'
Towleroad commenter and OXD fan, "Kirkyo," was the first person to bring singer-songwriter How to Dress Well (the stage name of Colorado-born Tom Krell) to my attention via Krell's haunting cover of Janet Jackson's 'Again.' Krell's sophomore album, Total Loss, includes the single '& It Was U,' a sultry R&B track that highlights Krell's beautiful falsetto. The Spanish producers known as Pional have already created a name for themselves with their remixes of Lemonade and The Rapture. With this re-work, the team has jumped on the altered-pitch bandwagon by lowering Krell's vocals and added a pulsing disco rhythm to the already sexy tune, creating a sensual, soothing track.
Solange – 'Lovers In The Parking Lot'
Solange released her latest EP, True, earlier this week to rave reviews around the music world. While the whole EP (produced by collaborator Blood Orange, née Devonté Hynes) is absolutely fantastic, 'Lovers In the Parking Lot' is a standout R&B track that tells the tale of a lover deciding to end her relationship because she's too young to be rooted down (the song is partly autobiographical, as Solange drew inspiration from her failed relationship with her son's father, NFL player Daniel Smith). With this EP, Solange has stated she wants to echo the genius of über-producers Jimmy Jam & Terry Lewis (the duo behind most of Janet Jackson's hits) which is evident by this song's familiar, nostalgia-inducing chorus.
MORE TRACKS AFTER THE JUMP…
Punks Jump Up x Dubka – 'Feels Good (feat. Saint Saviour)'
If Pizzazz & The Misfits were to make music today I have a feeling it would sound a lot like this new original track by London-based Punks Jump Up and Martin Dubka. The song is a flamboyant homage to 80's disco (hence the Jem & The Holograms reference!) and features vocals by the soulful maven, Saint Saviour. In addition to the spectacular original version, check out the Moonlight Matters and Mighty Mouse remixes and continue to enjoy one of the best disco songs of this year.
Icona Pop – 'I Love It (Solidisco Remix)'
Icona Pop is a Swedish DJ and electro-pop duo comprised of Aino Jawo and Caroline Hjelt.  'I Love it,' the lead single off of their first EP, Icona EP, features vocals by none other than Charli XCX whose bubbly spirit perfectly matches the song's nonsensical lyrics. Buffalo-based Solidisco has turned the original into another dancefloor filler which is very reminiscent of the classic Armin Van Helden remix of Uffie's 'A.D.D.S.U.V.' Both remixes use a churning disco beat and sloppy hi-hats to create a frenzied, "dirty disco" sound that is incredibly infectious.
Rihanna – 'Nobody's Business (feat. Chris Brown)'
When Andy first asked me to help him with a music column on Towleroad, I happily agreed but quickly said "don't expect a post on the latest Rihanna track, that's not what we do." Well, the time has come for me to eat my words. 'Nobody's Business,' is a track from Rihanna's latest, Unapologetic , that features none other than the notoriously  reprehensible Chris Brown. Produced by The Dream, the team has created a song that's true to their form: it's incredibly catchy, somewhat sensational, and delivers a whole lot of attitude. What makes the song worthy of OXD inclusion, however, is that the song has the potential to become a huge house anthem with its slick pianos, spirited synths and fantastic vocal delivery by Rihanna and Brown. It's unfortunate that any buzz this song will actually generate will most likely be due to the artists involved and not because the song is one of the best that either has delivered in quite some time.
OCCUPY THE DISCO (OXD) curates and recommends music events to the gay community in NYC—in an effort to move the focus of the nightlife scene beyond the promoter and venue and to the music itself. OXD's goal is to educate, entertain, engage and empower the gay audience to reclaim their ability to question and experience the unknown. The OXD Mirror will serve to showcase tunes that are definitely off-the-beaten-path but rightfully deserve the attention of the gay ear. It's music that will make you dance, dream, and most importantly, love.
This week's post was written and curated by Ru Bhatt. Check out more of his music picks on his podcast, The Ru-Mix.

For more information on OXD, check out our website and accompanying blog at www.occupythedisco.com, like us on Facebook, or follow us on Twitter: @OccupyTheDisco.