Gay hook-up site Manhunt will promote the recently-FDA-approved drug Truvada, which claims to reduce the risk of HIV infection, for this year's World AIDS Day, they announced via press release: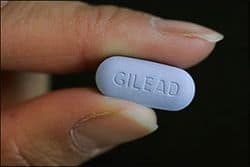 Manhunt™ will promote Pre-Exposure Prophylaxis (PrEP) for this year's World AIDS Day.  Manhunt is the world's largest online and mobile sexual networking site for gay men. This is the first time a worldwide promotion of Truvada, the recently approved U.S. FDA HIV Prevention Pill, has appeared on the site.  Manhunt has partnered with Gladstone Institutes' Dr. Robert Grant and The Fenway Institute to assure that the information conveyed is accurate and consistent with peer-reviewed published science. This promotion is part of Manhunt's 2012 Social Responsibility Initiative, and it is entirely self-funded.
The promotion is being sent to over 2.5 million Manhunt members on World AIDS Day through Manhunt's internal email broadcast system with the following tagline:
"HIV Prevention Pill for Negative Men (and women too): A choice when condoms are in the way or not enough?"
The campaign encourages members to visit Manhunt Cares™ dedicated PrEP page to learn more about this important biomedical intervention.
"We are thrilled to work with Manhunt and The Fenway Institute to educate a worldwide audience of gay, bisexual, and other men who have sex with men regarding PrEP," says Dr. Grant.  "It's critical to have an online community partner that sees the value of providing accurate information about this biomedical intervention."
The campaign highlights three educational resources for Manhunt members to learn more about PrEP: reading the PrEP fact sheets and research articles; watching a short video from Huffington Post Live on PrEP; and reviewing Positive Frontier's series called "My Life On PrEP".
One of the research papers featured is The Fenway Institute's PLOS ONE publication "Limited Awareness and Low Immediate Uptake of Pre-Exposure Prophylaxis among Men Who Have Sex with Men Using an Internet Social Networking Site."  The study's Principal Investigator, Dr. Ken Mayer, Co-Chair of The Fenway Institute, believes that much work is required to increase awareness of PrEP, and that "this campaign is just the beginning of increasing men's awareness of this intervention."
Previously…
FDA Approves Truvada Which Claims to Reduce Risk of HIV Infection: VIDEO [tlrd]