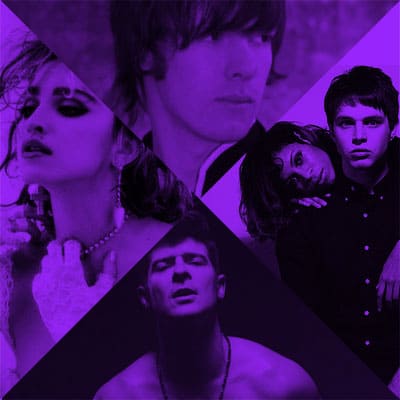 BY OCCUPY THE DISCO / RU BHATT
The OXD Mirror is a weekly music column brought to you by the boys of OCCUPY THE DISCO (OXD), a New York City based collective created by three music lovers, Ru Bhatt, Josh Appelbaum, and Tadeu Magalhães, who want to share their love for disco, house and dance music with the world. 
Edwin Van Cleef: 'Nala (Summer Best Pals Remix)'
Britain-based Edwin Van Cleef has put together a house tune that is completely mesmerizing in its lush production. Every time i hear this song I literally stop what I'm doing and imagine frolicking in the sun with my friends. Of course, it's my understanding that 'Nala' refers to the Lion King character, and imagine the Summer Best Pals moniker is a nod to Nala and Simba's carefree existence (at least before the wildebeest stampede). Regardless of whether or not you share my theory, this song certainly shows off the fact that lyrics are not necessary to captivate an audience.
Kim Ann Foxman: 'Return It (Populette Mix)'
Though Tadeu posted a Kim Ann Foxman track a few weeks ago, I am far too obsessed with this song to not include it in this week's column. The NYC-based producer and DJ's original version demonstrates her expertise over house music (check it out the fantastic video on OXD), and Brookyln-based Populette's haunting remix takes that sound even deeper into the nightclub. The duo, comprised of Max Pask and Andrew 'Wiz' Potter, have stripped down the original in their signature fashion, adding in an almost spooky sound, creating a song that showcases Foxman's suprisingly strong vocal presence as she tells a tale of unrequited love.
AlunaGeorge: 'Your Drums, Your Love (Duke Dumont Remix)'
AlunaGeorge is a London-based musical project, comprised of singer Aluna Francis and producer George Reid, that "isn't afraid to do something a bit weird" (by which they're referring to work by The Neptunes and Timbaland). The pair may be heavily influenced by 90's R&B, but leave it to breakout sensation Duke Dumont to turn the original song into an insatiable house anthem. Hot off the heels of 'Giver' (the go-to floor-filling jam by the likes of Aeroplane and The Magician), the UK producer has created yet another house gem that is certain to create quite the sweat-induced sheen on the dancefloor.
MORE TRACKS AFTER THE JUMP…
Madonna: 'Like A Virgin (Mighty Mouse Re-work)'
The London based producer known as Mighty Mouse, who describes his sound as "intergalactic muppet disco," first came to my attention with his addictive Balearic disco remix of Beyoncé's 'Smash Into You' – which was in very heavy rotation in my Fire Island house in the summer of 2009. Since then, the prolific artist has made quite the impact with his remixes for the likes of Robbie Williams, Gil Scott, and his famous 'Disco Circus' or 'Disco Battle Weapons' mixtapes. With this remix Mighty Mouse revitalizes a gay favorite in a much better fashion than Madonna's most recent attempts and turns it into a cosmic disco tune that will pleasantly surprise everyone on the dancefloor.
Justin Bieber – As Long As You Love Me (Louis La Roche Remix)
To be honest I hardly give Justin Bieber any thought, but when Norwich, UK-based producer Bret Ewels, better known as Louis La Roche, decides to remix the teenage sensation then I certainly will sit up and notice. As expected, the remix sounds nothing like cringe-inducing, dubstep-influenced original (sorry Justin, Britney did it better). Instead La Roche has playfully altered Bieber's pitch from very low to incredibly high – almost like a baby – which perfectly complements the escalating pianos and synths of this house tune.
Robin Thicke: 'Lost Without You (Dublin Aunts Daytime Sex Mix)'
Robin Thicke has made a career out of creating sensual, "baby-making" R&B songs that showcase his falsetto and celebrate his love for the opposite sex. Somehow Dublin Aunts, the Australian duo comprised of DJ Adam Payhag and songwriter/producer Xavier Mills, has turned the original into an even more lust-inducing jam with their flirtatious daytime disco wash. The team boasts that they "make music to dance and have sex to" and after hearing that description, well, it's hard not to think of either as you bop along to the pulsing bongo rhythm and melodic guitar riffs.
Ru-Mix: 'Makes Me Wanna Give It'
While four out of the six songs above are available as a free download, as an added bonus i've also included a link to my latest mixtape, 'Makes Me Wanna Give it' which showcases many of the house music tracks we have included in past columns. Stream it above, or head to Occupy The Disco to see the tracklist and download it.  
OCCUPY THE DISCO (OXD) curates and recommends music events to the gay community in NYC—in an effort to move the focus of the nightlife scene beyond the promoter and venue and to the music itself. OXD's goal is to educate, entertain, engage and empower the gay audience to reclaim their ability to question and experience the unknown. The OXD Mirror will serve to showcase tunes that are definitely off-the-beaten-path but rightfully deserve the attention of the gay ear. It's music that will make you dance, dream, and most importantly, love.
This week's post was written and curated by Ru Bhatt. Check out more of his music picks on his podcast, The Ru-Mix.

For more information on OXD, check out our website and accompanying blog at www.occupythedisco.com, like us on Facebook, or follow us on Twitter: @OccupyTheDisco.