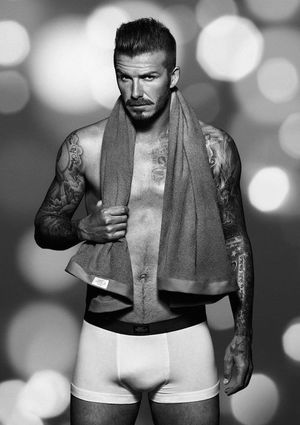 PHOTO OF THE DAY: David Beckham all decked out in his holiday line of bodywear.
BY SAM GREISMAN
A look back at today's top stories
ELECTION 2012
A woman in California has confirmed her spot in the running for one of the worst people in the world by not only posting a slur–laden tirade against Obama on her Facebook, but also by not being sorry about it. She has been fired from her job at Coldstone Creamery. Yes the election has only been over a few days, but that doesn't mean we have to waste any time preparing for 2016. Hilary currently leads in the polls!
Rachel Maddow sat down with Stephen Colbert last night and Colbert wasn't buying her olive branch to conservatives. Also our Ari Waldman takes a look at what the election results mean for gay Republicans. Apparently for GOProud leader Jimmy LaSalvia it means they should maybe start thinking a little differently about equality.
**

GAY RIGHTS
Dan Savage has a message for hate group leader Tony Perkins, "I'll see you in court!". Meanwhile Perkins was off spouting some bigotry about a revolution if the Supreme Court passes gay marriage. Speaking of hate, a Christian group in Maine wants to overturn Tuesday's marriage equality victory. Good luck.
Also remember Chick-Fil-A? Well apparently some people still care enough about it to camp overnight there.
**

ENTERTAINMENT
Awww! Big Brother Australia's first-ever gay winner proposed to his boyfriend on this week's live finale. On a different note check out Brad Pitt battling zombies (they are so in right now) in the first trailer for World War Z.

**
VIDEOS OF THE DAY
To get you all excited to go dancing this weekend take a look at Yale's LGBT Alumni group's salute to gay anthems. And finally the answer to the question why did Nate Silver get so drunk?