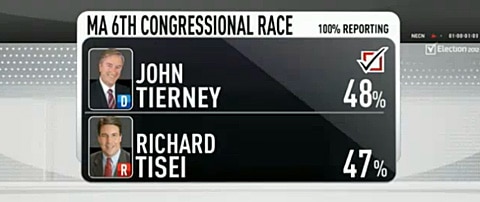 Representative John F. Tierney (D-MA) held on to his House seat from Massachusetts last night, defeating gay Republican candidate Richard Tisei, the Boston Globe reports: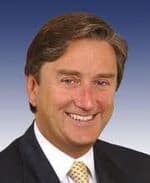 Tierney descended to the ballroom at Salem's Hawthorne Hotel about 12:30 Wednesday morning to declare victory, holding his wife's hand aloft and basking in the cheers of 100 remaining supporters. He made an elliptical reference to the family scandal that had dogged him throughout the campaign and provided ample fodder for challenger Richard R. Tisei…
…With all precincts reporting, Tierney held a nearly 4,000-vote lead, collecting 48.3 percent to Tisei's 47.3 percent.
A late-arriving crowd at the Tierney party swelled to 200 at one point, spirits soaring, when it appeared he would ­retain his seat.
"We were all prepared for the worst given the lead-up to the race," said Kim Driscoll, Salem's mayor. "This is just phenomenal, and [we're] very happily surprised."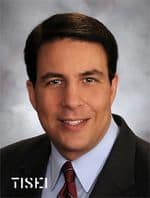 Tisei is not ready to concede, NECN reports:
But, the Tisei team is testing the truth of Tierney's win. Tisei's campaign manager, Paul Moore, said he wasn't able to speak to the town clerk of Lynn and believes there may have been foul play.
"I think at best we have a very incompetent official in Lynn…," Moore said.
In a statement emailed to NECN, Lynn city clerk and elections chief Mary Audley responded:
"The allegations made by Mr. Tisei's campaign are unfounded.  We were in City Hall from 6:30 a.m. yesterday morning until 9:30 p.m.  Our phones were extremely busy, but nobody came into the office to make any complaints.  We received no calls from the Secretary of State's Office regarding any such allegations and no voters were challenged. Other than that, I really have no comment as to what he believes other campaigns did or did not do.  We are committed to running every election to the letter of the law and to allege otherwise is quite offensive."
Watch NECN's report, AFTER THE JUMP…