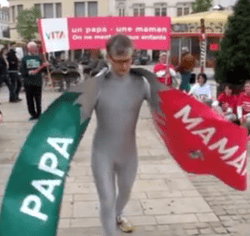 Anti-gay activists held marches across France today to protest President Francois Hollande and others' push for marriage equality, an initiative they're calling "marriage for everyone."
Such groups have proven themselves to be into using costume design to make their point (see picture, right), and today's demonstrations were no exception: pink, blue and white were the colors du jour.
From the Washington Post:
Saturday's event, entitled "march for everyone," attracted several thousand people in cities such as Lyon, Marseille and Paris.

There is a dress code of blue, white and pink aimed to put a spin on the French tricolore flag's traditional colors.

A
recent survey found that majority of French favor gay marriage, [while] the
support for adoption for gay couples hovers at around 50 percent.
It's unclear how long it will take for Hollande and company to pass marriage equality. The president and his cabinet approved a draft bill earlier this month, but religious and social conservatives, as well as some of Hollande's own socialist party, are increasingly vocal in their opposition and threaten to derail the entire process.