The United Nations last week approved a resolution condemning executions motivated by anti-LGBT bias, the AP reports: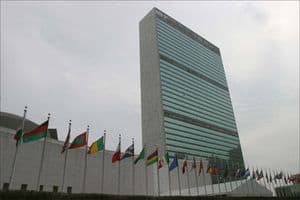 Delegates in New York approved a resolution that condemned killings based on sexual orientation and, for the first time, gender identity. An amendment by the United Arab Emirates to strip sexual orientation and gender identity from the list was defeated 86-44.
Gay rights advocates said the Vatican, a non-U.N. member with "observer" status, sought to remove all references to protected categories, but its proposal was never brought up for a vote.
The United States voted to retain the language based on sexual orientation and gender identity but abstained from the final vote as is its policy on votes related to the death penalty.
U.N. ambassador, Susan Rice applauded the vote:
"The proposed change would have effectively sent a message to the world that people targeted on account of their sexual orientation or gender identity do not enjoy the same right to life as others. The United States will fight to ensure that the remarkable progress the U.N. has made on LGBT issues in the last four years is not rolled back."
(h/t think progress)